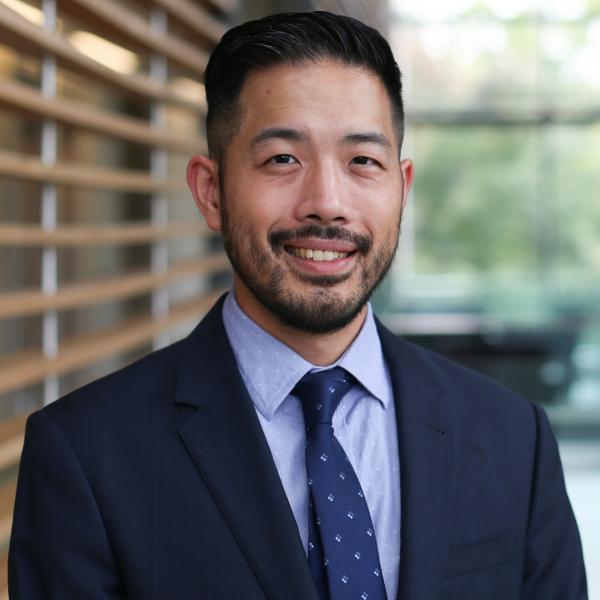 Position(s)
Assistant Professor
Attending Staff, Kingston Health Sciences Centre
Contact Info
T. 613.549.6666 ext. 2383
F. 613.548.6085
Kingston General Hospital
76 Stuart Street, Kingston, ON
K7L 2V7
---
Dr. Wiley Chung is an Assistant Professor of Surgery in the Department of Surgery at Queen's University.  In 2023, Dr. Chung was awarded a distinction as the Reznick Scholar in Health Professions Education at Queen's University in recognition of his outstanding contributions to enhancing educational scholarship at Queen's University. 
Dr. Chung graduated with his Doctor of Medicine from the University of British Columbia in 2009.  In 2014, he was the Valedictorian upon completing his General Surgery Residency at the University of Toronto.  Following this, Dr. Chung completed his Thoracic Surgery Residency at the University of Calgary in 2016.  He subsequently completed a Master of Health Professions Education at Queen's University.  He is pursuing a Ph.D. in Health Quality at Queen's University and completed his internship at Stanford University. 
Specializing in minimally invasive thoracic surgery, Dr. Chung's expertise extends to mediastinal, pulmonary, and esophageal surgery, including esophagectomy and surgery for benign disorders, such as gastroesophageal reflux disease, hiatus, and paraesophageal hernia.  He also performs minimally invasive diaphragm hernia repairs, including Morgagni and Bochdalek hernias, and diaphragm plication for diaphragm paralysis.
From 2016 until 2022, Dr. Chung served as the sole esophageal surgeon for the South East Ontario Health Region.  In 2018, he established the first Esophagogastric Diagnostic Assessment Program (EDAP) at Kingston Health Sciences Centre (KHSC), shaping the future of esophageal cancer management in Southeast Ontario.  He is pivotal as an Advisor for the Thoracic Cancers Advisory Committee of Cancer Care Ontario (CCO), contributing to developing the inaugural CCO Esophageal Cancer Pathway Map in 2019.  Furthermore, he has championed surgical excellence as the Chair of the Quality Improvement and Patient Safety Committee for the Department of Surgery.  From 2018 until 2022, Dr. Chung was the Surgeon Champion at KHSC as part of the American College of Surgeons National Surgical Quality Improvement Program. 
As a medical educator, Dr. Chung has mentored learners at every stage of their medical journey.  His leadership in the MD Program (Undergraduate Medical Education) at Queen's University stands out for its excellence.  In 2023, he assumed the role of Director of Interprofessional Education, a testament to his collaborative spirit.  Driven by his vision, he chairs the QHS Interprofessional Education Curricular Subcommittee, pioneering the creation of a shared interprofessional curriculum between the School of Nursing, Medicine, and Rehabilitation Therapy.  Under his visionary guidance, Queen's University is set to become the vanguard of interprofessional education in North America.  Additionally, Dr. Chung serves as the Director of Equity, Diversity, Inclusion, Indigeneity, and Accessibility (EDIIA).  Under his leadership, he established the first MD Program EDIIA Committee at Queen's University, fostering inclusivity and empowerment for every medical student at Queen's University.
Dr. Chung's influence is felt profoundly in Postgraduate Medical Education (PGME).  In 2022, he established the first Thoracic Surgery Fellowship Training Program at Queen's University and continues to shape its trajectory as the Program Director.  His commitment to inclusive education is exemplified through his work with the Indigenous community and academics, where he is pioneering the decolonization and Indigenization of a Canadian surgical curriculum.
Dr. Chung has been honoured with numerous awards, including the Southeastern Academic Medical Organization (SEAMO) Endowed Scholarship and Education Grant in 2021 and 2022.  He was awarded the Queen Elizabeth II Graduate Scholarship in Science and Technology in 2022. Furthermore, the Canadian Association for Medical Education recognized his commitment and passion for health professions education with the Rising Star Certificate of Excellence in 2022. 
Dr. Chung's research lab employs a comprehensive range of research methodologies, including quantitative, qualitative, and mixed-methods approaches.  He oversees a dedicated team of 5 fellows, 3 residents, 6 medical students, and 3 undergraduate students.  As the Principal Investigator for the DICE Trial, a randomized controlled study at KHSC, he explores the comparative outcomes of two primary treatments for empyema.  Additionally, Dr. Chung leads the EndoFLIP Trial, investigating the potential of the EndoFLIP balloon catheter to enhance short- and long-term patient outcomes in hiatal hernia surgery.
Besides these trials, Dr. Chung actively participates in multiple quality improvement initiatives and projects.  His current Ph.D. research delves into a crucial healthcare domain: bolstering psychological safety in operating rooms. This research holds significant importance as it directly affects healthcare professionals and patients.  Enhancing psychological safety will empower healthcare professionals to voice concerns and address medical errors in the operating room.  Additionally, it will remove barriers for those seeking clarifications, ultimately enhancing the quality of patient care.