The Dr. J. Hugh and Miriam McGuire Lectureship in Surgery was established with a generous gift made to the University by Miriam McGuire in honor of her late husband Dr. J. Hugh McGuire, a devoted General Surgeon at Humber River Regional Hospital (formerly York Finch) from 1971 to 2003.  Prior to specializing in surgery, Dr. McGuire worked in general practice at Banff Community, Mississauga General Hospital, Toronto East General Hospitals.  He graduated from the Queen's Faculty of Medicine in 1963.  Miriam McGuire, RN, CPN (C), worked at the same hospital from 1978 to 2002. The purpose of this donation is in support of a Visiting Scholar in the Queen's Department of Surgery. This Visiting Scholar will bring special expertise to Queen's Surgery and stimulate new ideas and new methodologies among Queen's medical scientists and clinicians as well as provide new concepts to students. The program as a whole will seek to highlight medical/surgical innovation which shall be of interest to general surgeons.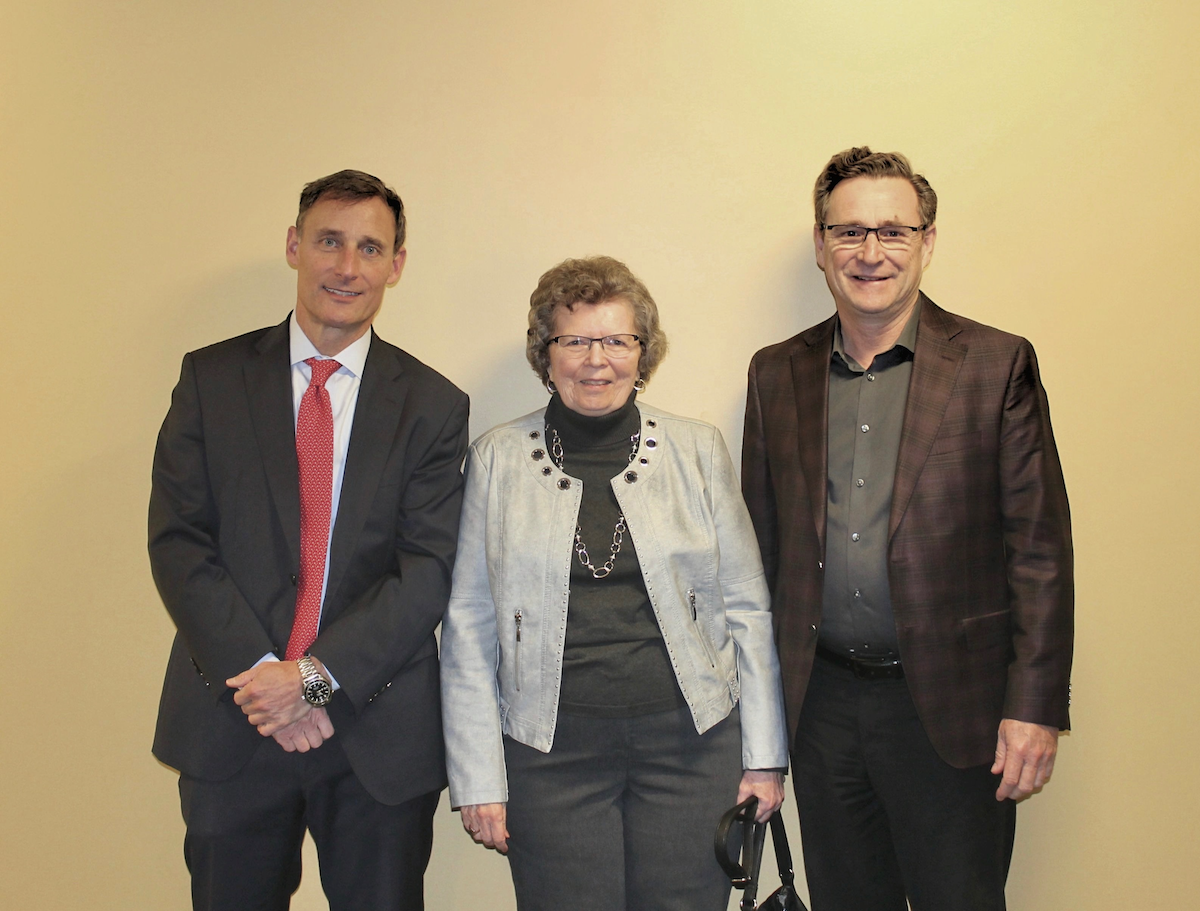 2019 - Dr J Hugh and Miriam McGuire Lectureship in Surgery
The 3rd annual McGuire Lectureship in Surgery featured Guest Speaker Dr. Martin Weiser, Surgical Oncologist; Vice Chair for Education and Faculty Development, Department of Surgery; Stuart H.Q Quan Chair in Colorectal Surgery at Memorial Sloan-Kettering Cancer Center from October 22-24, 2019.
His presentation at Grand Rounds was entitled "Total Neoadjuvant Therapy for Locally Advanced Rectal Cancer:The Memorial Sloan Kettering Approach".
*Image: Left to right: Dr. Martin Weiser, Miriam McGuire, Dr. Hugh MacDonald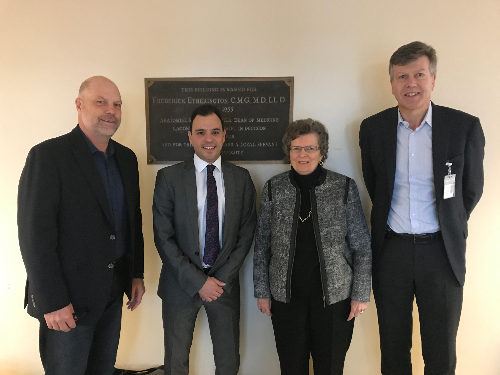 2017 - Dr J Hugh and Miriam McGuire Lectureship in Surgery
The speaker for our 2nd annual event was Dr Daniel Leff of the Department of Surgery and Cancer in the Faculty of Medicine at Imperial College London. He spoke on "Margin Assessment for Breast Cancer Surgery: Disruptive Innovations or Traditional Disruptions"

The event took place on Wednesday November 15, 2017 from 7-8AM in Etherington Hall at Queen's University.
*Image: Left to right: Dr John Rudan, Dr Daniel Leff, Miriam McGuire, Dr Jay Engel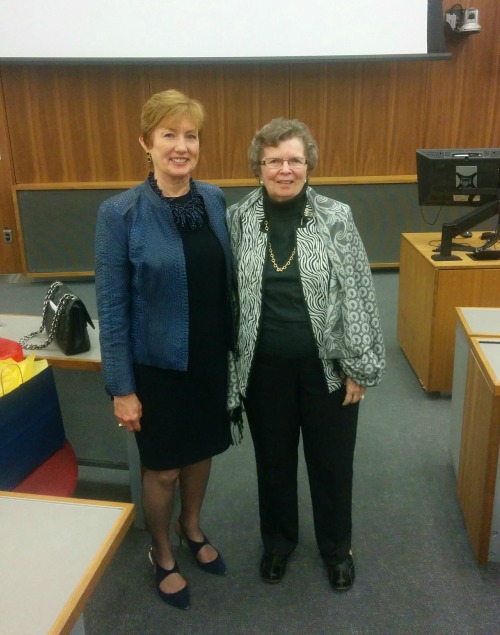 2016 - Dr J Hugh and Miriam McGuire Lectureship in Surgery
The speaker for our 1st annual event was Dr Monica Morrow, Chief, Breast Service, Anne Burnett Windfohr Chair of Clinical Oncology, Memorial Sloan-Kettering Cancer Center, New York NY, and Professor of Surgery, Weill Medical College of Cornell University. She spoke on "Progress in the Surgical Treatment of Breast Cancer"

The event took place Wednesday, March 30th, 2016 at 5:00PM in the School of Medicine Building at Queen's University
*Image: Dr. Monica Morrow (left) and Miriam McGuire (right)