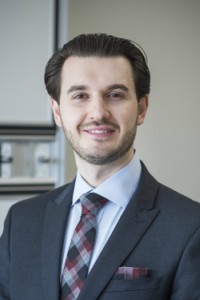 Position(s)
Associate Professor
Attending Staff, Kingston Health Sciences Centre
Contact Info
T. 613.549.6666 ext.3675
T. 613.544.3400 ext. 3550 - HDH
F. 613.544.3199
Kingston General Hospital
76 Stuart Street,
Kingston, ON K7L 2V7
---
Dr. Boris Zevin is an Associate Professor of Surgery and SEAMO Medical Education Scholar within the Department of Surgery at Queen's University.  He is also the Medical Director of the Kingston Bariatric Centre of Excellence at Kingston Health Sciences Centre.
In 2008, Dr. Zevin graduated with his Doctor of Medicine Degree and then went on to complete his General Surgery residency training in 2015 from the University of Toronto.  During this time, he obtained a Doctor of Philosophy Degree from the Institute of Medical Science (University of Toronto) in 2014, with a focus on Medical and Surgical Education.  Dr. Zevin specifically explored the use of simulation for training and assessment of minimally invasive surgery skills.
In 2016, Dr. Zevin completed a clinical fellowship at The Ohio State University specializing in Advanced Minimally Invasive Upper GI / Bariatric Surgery and Endoscopy.
Dr. Zevin's area of surgical expertise is minimally invasive bariatric surgery and surgery for benign disorders of stomach and esophagus (gastroesophageal reflux disease, hiatus and paraesophageal hernia).  
As a medical educator, Dr. Zevin uses theoretical frameworks and evidence-based educational practices to enhance students' learning experiences.  He believes in tailoring educational opportunities to the individual learner in order to improve his or her knowledge, technical and non-technical skills.
Publications
Click here to view Dr. Zevin's publications
Website
Click here to go to the Kingston Bariatric Centre of Excellence website