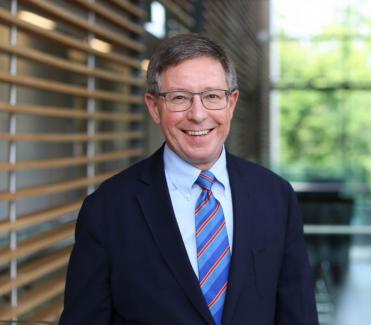 The practice of medicine is always in a state of flux, but never more so than in today's environment, with the explosion of advanced technologies and techniques.  These advances, however, also require us to alter our own perspectives and take on the challenge of new ideas.  This is where our department thrives - in an environment of transformation and discovery.
Competency-Based Medical Education (CBME), introduced at Queen's School of Medicine in July 2017, is an excellent example of our ability to lead change.  As the first medical school in Canada to implement CBME across all departments, Queen's has demonstrated leadership in education and training, and faculty members in our department are being sought out by other schools to help them learn from our experiences. 
Our students have embraced the shift to a training program that focuses on individualized learning and meaningful feedback and these up-and-coming stars are already making an impact in research, in medical education and at the bedside.  Many of them are contributing to medical education, coordinating programs such as the Surgical Skills and Technology elective program for second-year medical students and presenting their work at national and international conferences.  Our own annual Resident Research Day regularly highlights some of the excellent work that our trainees are doing in conjunction with their mentors.
We have experienced world-leading achievements over the past few years through the development of emerging technologies and processes that are transforming surgical practice.  From the NaviKnife to new atrial fibrillation procedures, our clinician-scientists are collaborating with like-minded peers across many disciplines toward a common goal of driving innovation in interactive tools.
Six new Chairs in surgery have been created thanks to an investment by our own surgeons, who are deeply committed to the research and academic activities in the department.  Our research programs are making substantial contributions to medical education and patient care, from diagnoses to treatments, and our population health program is flourishing with residents actively working toward their degrees.  Queen's continues to increase its commitment to research capacity and we are responding with interdisciplinary and industry partnerships that position our department and the university as a global leader in many areas of surgical approaches and tools.
We are creating globally but also acting locally, providing new services such as our Breast Reconstruction program and our Bariatric Surgery Centre of Excellence to our communities, thus eliminating the need for our patients to travel to other centres for treatment. Our Robotic Colorectal Surgery Program is a leader in Canada in advancing this emerging surgical technology. We continue to attract new talent to our team and have welcomed thirteen new faculty members over the past three years.  We are also embarking on the development of an exciting new Global Surgery Initiative which will assist us in addressing surgical care disparities locally, regionally and internationally.
The Department of Surgery thrives because of the dedication and commitment of teams who truly believe in a multidisciplinary approach to education, research and patient care.  Together, we are changing our thinking - and changing our world.
Dr. G. Ross Walker
Britton Smith Chair in Surgery
Head, Department of Surgery