Dr. Andrew Bruce is an alumnus of Queen's University and as an entrepreneur he is a strong proponent of surgeons and their innovations. He approached the Faculty of Health Sciences and the Department of Surgery with a goal to translate innovation in Surgery by helping bring scholarly surgical expertise to Queen's. This is now possible thanks to his generous endowed donation that was matched by the Department of Surgery. We are very fortunate to have Dr. Bruce back at Queen's as a member of the Faculty of Health Sciences Dean's Advancement Cabinet and we are honored that Dr. Bruce and his late wife Margaret have made it their wish to make a major investment in Queen's. With the establishment of the Dr. Andrew and Margaret Bruce Endowment for Visiting Scholars in Surgical Innovation, the Department of Surgery is able to host an annual lectureship for both the medical community as well as the general public.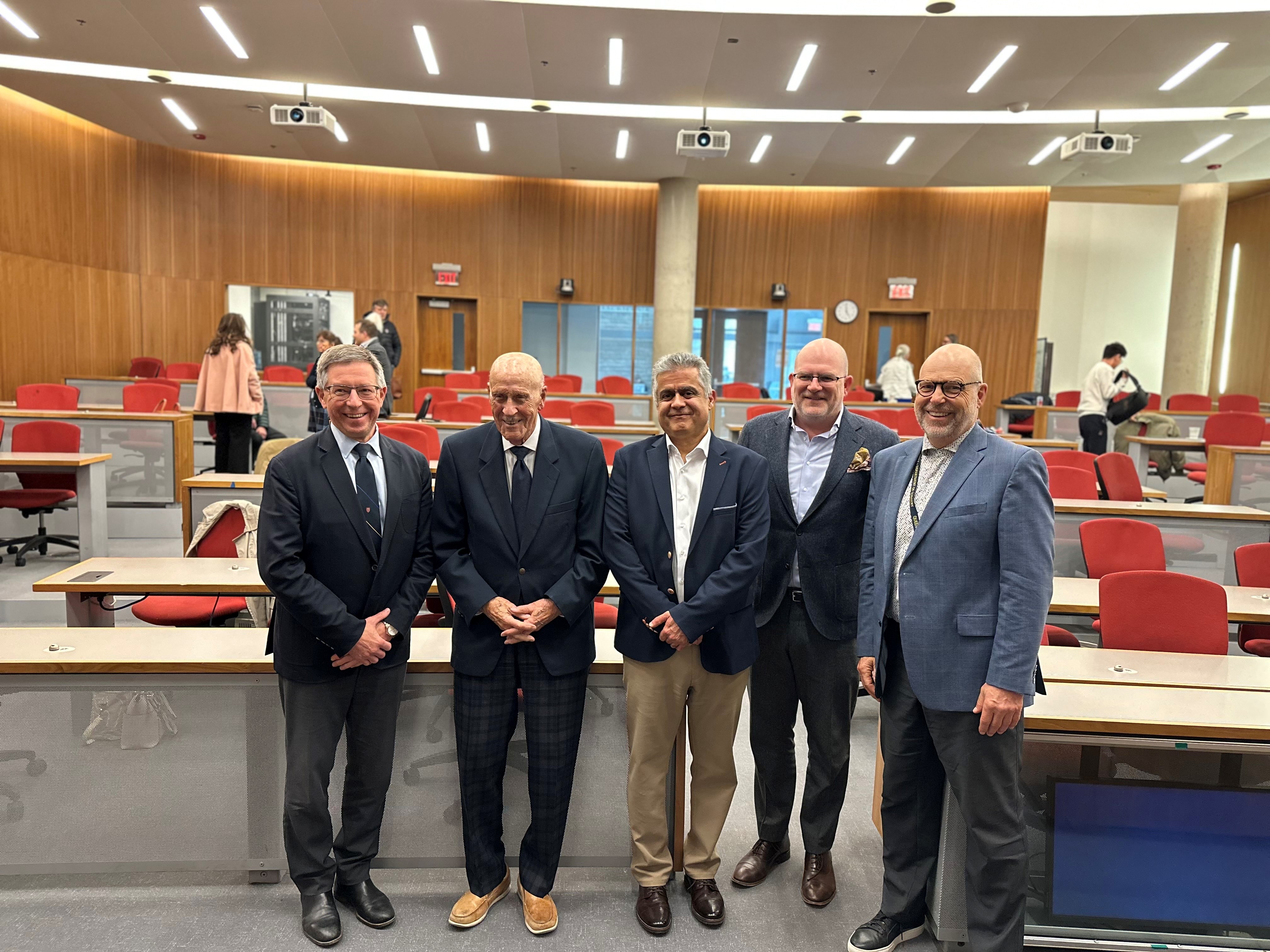 Image from left to right:
Dr. Ross Walker, Dr. Andrew Bruce, Dr. Nassir Navab, Dr. Mike Leveridge, Dr. John Rudan
*************************************************************************************
The 8th Annual Dr. Andrew and Margaret Bruce Visiting Scholar in Surgical Innovation was held on Wednesday, April 19th, 2023 from 4:30-5:30pm in the Queen's School of Medicine Building. This year's guest scholar was Dr. Nassir Navab, Chair of Computer Aided Medical Procedures & Augmented Reality From T. University of Munich and Johns Hopkins University.

In his public lecture entitled "What you get is what you don't see: Advances in Augmented Reality" Dr. Navab outlined Artificial Intelligence (AI) and Augmented Reality (AR) in relation to the field of healthcare, and the exciting new uses and implications for physicians and patients alike.
For more information about previous years' lecturers, please click on the drop-down menu on the right.