Surgical education key to responding to global cancer crisis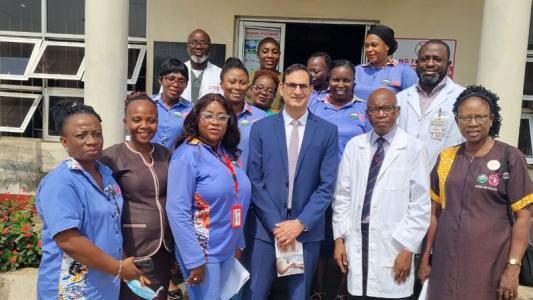 Cancer rates are on the rise in lower and middle income countries, however timely treatments for curable cancers is not always accessible, leading to high mortality rates. Dr. Sulaiman Nanji is working to change those statistics with a surgical oncology fellowship program in West Africa designed to train surgeons to respond to the rapidly growing demands for cancer care.  
Dr. Nanji is developing a competency-based surgical oncology curriculum to train general surgeons in 18 countries in West Africa, with the support of the SEAMO Global Development Fund.  "The mortality rates for many curable cancers is almost parallel to the number of cases in these countries," he says. "People are needlessly dying from treatable cancers because they cannot access care."  
Global oncology program focuses on equity in cancer care
Dr. Nanji is a member of the Global Oncology Program at Queen's, a group of healthcare experts focused on improving equity and accessibility of cancer care in low and middle income countries. The fellowship program is based on the Canadian curriculum, however, Dr. Nanji notes that it must be adapted to a very different environment. "In order to be successful, we need to ensure that our curriculum aligns with local resources, policies and surgical capacity," he says.
Along with training, work is underway to develop cancer databases and research registries to better understand the factors around different types of cancer and why they might be occurring.  Ultimately, the goal is to assess the curriculum for adaptability and then scale the program to support surgeons across the continent.
Dr Nanji says that the Fellowship program is a three-year project that will involve many educators, scholars, and surgeons, and promises to offer many rewarding reciprocal learning opportunities. "We are looking at how to strengthen cancer care globally, but we are also learning so much from our colleagues in West Africa," he says. "This project is all about sharing knowledge and collaborating to advance equity and accessibility to cancer care."