New Centre for Health Innovation holds inaugural symposium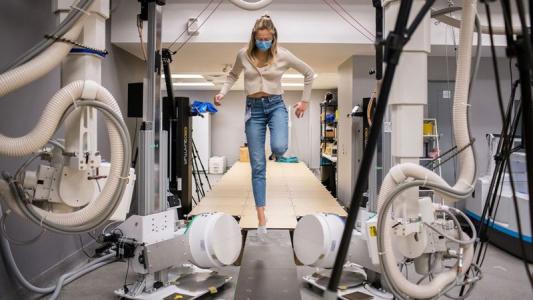 The Centre for Health Innovation (CHI) held its first symposium on June 6-7, 2022 to showcase the Centre's activities and collaborative approach to health research. The "Innovation for Good" symposium featured presentations and panels to highlight the innovative and collaborative research being conducted at Queen's and Kingston Health Sciences Centre (KHSC), as well as the development of new state-of-the-art facilities to address the most pressing human health challenges. 
CHI is an evolution of the Human Mobility Research Centre, which was created over 40 years ago to connect experts in medicine, engineering and computer science developing innovative treatments for bone and joint disorders. In 2021, HMRC was re-named as the Centre for Health Innovation (CHI), funded in part by the Department of Surgery and Kingston Health Sciences, the Faculties of Health Sciences, Arts & Science, and Engineering and Applied Science.
Multidisciplinary teams for transformative healthcare
"CHI integrates insights from the frontlines of care to understand the real-world experiences and needs of patients and healthcare professionals," says Amber Simpson, director of CHI and the Canada Research Chair in Biomedical Computing and Informatics. "We are multidisciplinary because we understand that the creative and innovative power of inclusion will lead to the next evolution of transformative healthcare for all." Members of the new Centre have diverse backgrounds, from expertise in medicine, engineering, science, and technology to the humanities. 
The Innovation for Good symposium highlighted the innovative research being conducted by CHI members, featuring sessions on biobanking, translational genomics, global health equity and informatics. Collaborative teams are building synergies between artificial intelligence (AI) and cancer research, and looking at how machine learning techniques and AI solutions might help physicians interpret cancer spread.  Research teams are also investigating the bioethical implications of using AI, and providing training and mentoring in medical informatics for the next generation of healthcare professionals.
State-of-the-art facilities
A key feature of the CHI is the development of shared state-of-the-art facilities for the research community. In partnership with the Canadian Cancer Trials Group (CCTG), the Canada Foundation for Innovation, Queen's faculty partners, and KHSC, CHI will undertake a large-scale expansion of histopathology and biobanking resources at KHSC. Complete analyses of genomic phenotypes will enable discovery for a variety of clinical questions.
"We expect the shared resources and specialized facilities will allow innovation in precision medicine and digital health, in alignment with private sector interests, informing government policy, and attracting R&D investment", notes Dr. Simpson. "Building on the work of HMRC, we are establishing an integrated, truly multi-disciplinary facility that we hope will become a province- and nation-wide resource to support health innovation and research. Exciting things are happening and Queen's and KHSC are proud to be at the forefront."