KHSC offering novel cardiac procedure closer to home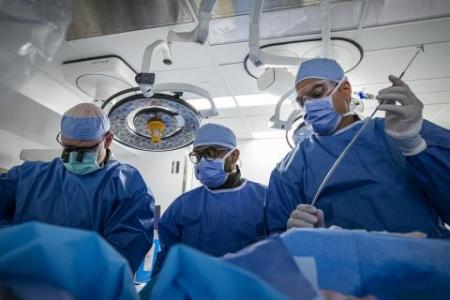 Patients in southeastern Ontario will no longer need to travel to Toronto or Ottawa for a specialized cardiac procedure, as Kingston Health Sciences Centre (KHSC) has received approval to offer minimally invasive mitral valve clip repair.
The procedure aims to repair a faulty heart valve for patients that are generally too fragile or frail for open heart surgery. If the mitral valve doesn't close properly, blood flows backwards through the chambers of the heart. In the short-term patients will experience shortness of breath and less energy. Left untreated the condition could become fatal.
Using this new procedure, multidisciplinary surgical teams comprised of Interventional Cardiology, Cardiac surgery, Cardiac Anesthesia and echocardiography are now able to make a small incision (2-3 millimeters) in the patient's leg. Using state-of-the-art imaging tools, surgeons are able to guide a catheter up into the patient's heart and deploy a clip which acts as a staple, to pin a portion of the valve closed, significantly reducing the backwards blood flow.
"This is an extremely specialized procedure and requires a team of highly trained experts to complete including a cardiac surgeon, echo-cardiologist, interventional cardiologist and cardiac anesthesiologist among many others working together for the patient," says Interventional Cardiologist Dr. Wael Abuzeid. "Only a small handful of medical centres in Ontario are able to perform this procedure and we are very happy that KHSC is now a member of that exclusive group and can offer this service to the people of southeastern Ontario."
KHSC expects to perform about 15 cases per year. Patients meanwhile can expect much faster recovery compared to traditional open heart surgery.
"Our patients are generally awake right after the procedure and are up and moving almost right away.  We perform an ultrasound the next morning to make sure everything looks ok and they can be back at home and out of the hospital in less than 24 hours," says Dr. Abuzeid. "Since patients no longer have to recover from a large incision in the chest, within a few weeks they are noticing a positive difference, experiencing less shortness of breath and are able to participate in normal activities."
To gain expertise in this new procedure, KHSC physicians travelled to Toronto several times a month for more than a year to work with high volumes of patients in the Toronto area. Moving forward, this level of expertise will continue to benefit patients in our region.
"This is just an opening to a new frontier in the field of interventional cardiology," says Dr. Abuzeid. "We're opening the door to potential future growth at home here in Kingston. There is more opportunity for cardiologists and cardiac surgeons to work together to offer new structural heart services and minimally invasive procedures for our patients, as well as offer the highest level of education to our medical trainees."