New Surgical Research Chairs Appointed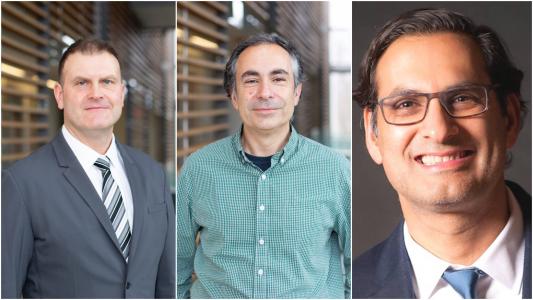 Queen's Health Sciences is pleased to announce the appointments of three new Research Chairs in the Department of Surgery. Dr. Ryan Bicknell has been appointed as the Helliwell Chair in Orthopaedic Research, Dr. Ron Levy as Queen's Chair in Surgical Innovation and Research, and Dr. Sulaiman Nanji as the J. Hugh McGuire Chair in Surgery. All three Chairs were appointed by Dean Jane Philpott on the recommendation of Surgery Department Head Dr. Ross Walker. Their five-year terms began on January 1, 2022.
Dr. Ryan Terence Bicknell appointed as the Helliwell Chair in Orthopaedic Research
Dr. Bicknell is an Associate Professor in the Division of Orthopaedic Surgery, Department of Surgery and the Department of Mechanical and Materials Engineering at Queen's University. As Helliwell Chair, Dr. Bicknell plans to expand the reputation of the Division of Orthopaedic Surgery and the Centre for Health Innovation (CHI) as leaders nationally and internationally in Orthopaedic Research.
The mission of the Helliwell Chair is to conduct, support, and develop research in the Division of Orthopaedic Surgery within the Department of Surgery, and foster interdisciplinary, patient-centered research. Dr. Bicknell's ultimate vision for the Helliwell Chair is to develop a shoulder biomechanics research program. This would involve a three-pronged, multi-scale approach to the investigation of the biomechanics and kinematics of shoulder function. Upon joining Queen's, Dr. Bicknell was successful in establishing a multidisciplinary shoulder integrated research team. This has included team members from engineering, computer science, anatomy, rehabilitation, and surgery, as well as integration with the NSERC-CREATE Training program in Bone and Joint Health Module for Clinical Practice and Research. In 2014, Dr. Bicknell was cross-appointed to the Department of Mechanical and Materials Engineering, which has further enabled collaborative research and supervision of trainees.
Dr. Bicknell also has ongoing collaborations with researchers across Canada and internationally, including the United States, France, Germany, and Belgium. This type of collaboration has been a cornerstone of the success of the CHI and will continue to be significant moving forward.
Dr. Bicknell's experience as the Department of Surgery Resident Research Day (Ersil Day) Coordinator, a member of the CHI Executive/Board and the Department of Surgery Research Committee and finally, current President of the Canadian Shoulder and Elbow Society (CSES), have provided him with experience that will facilitate continued involvement in research administration and leadership.
Dr. Ron Levy appointed as Queen's Chair in Surgical Innovation and Research
Dr. Levy is an Associate Professor in the Department of Surgery. He is a neurosurgeon with extensive neurophysiological and clinical experience in neuromodulation techniques to treat movement disorders, pain, and epilepsy. He runs a functional and stereotactic neurosurgery program at Kingston Health Science Centre (KHSC) and performs deep brain stimulation, spinal cord stimulation, epilepsy surgery, and stereotactic procedures. His lab researches how these illnesses affect motor and motor cognitive function using acute and chronic electrophysiology, simultaneously.
Each program is Ministry of Health and Long-Term Care supported and brings external funding to KHSC. Each serves as a platform for translational research and supports the clinical and research interests of a multitude of clinicians at KHSC. Importantly, this clinical work is being integrated into research at the Queen's University Centre for Neuroscience Studies. Some examples include trialing novel electrophysiological techniques to record and stimulate brain activity in patients with Parkinson's disease, using robotic assessment to study movement and the effect of deep brain stimulus, testing stimulation thresholds in spinal cord stimulation therapy to aid in improving pain control, and mesial temporal lobe function in memory and learning.
Dr. Levy plans on using the Queen's Chair in Surgical Innovation and Research to strengthen and grow his neuromodulation research program and electrophysiological research in the Division of Neurosurgery. It will afford Queen's Health Sciences the opportunity to concentrate on generating positive research outcomes and fostering deeper collaboration with clinical and basic science professionals across KHSC, Queen's, and other national researchers.
Dr. Sulaiman Nanji appointed as the J. Hugh McGuire Chair in Surgery
Dr. Nanji is an Associate Professor with the Department of Surgery at Queen's University and member of the Division of General Surgery. He has dual fellowship accreditation in hepatobiliary and pancreatic surgery as well as multi-visceral organ transplantation. His clinical training and research interests have provided him opportunities to work in several institutions including the Universities of British Columbia, Alberta, and Toronto as well as Emory University, Kings College Hospital in London and the National Aeronautics and Space Administration (NASA). His current research interests in oncology complement his clinical practice in the surgical treatment of hepatobiliary and pancreatic malignancies. He conducts translational research in the epigenetics of human liver cancer with the goal of using genetic profiling to better risk stratify and treat patients with liver cancer. He also conducts epidemiological and health services research in hepato-pancreato-biliary (HPB) malignancies through the Cancer Research Institute at Queen's University.
Over his tenure, Dr. Nanji established several collaborative research programs that have enhanced the academic profile of the department. Perhaps most notable is the health services research program within the Division of Cancer Care and Epidemiology at the Queen's Cancer Research Institute. Independently and in collaboration with Clinician-Scientists at Queen's University, Dr. Nanji has developed several population-based databases that have led to over 55 published peer-reviewed manuscripts in journals such as Cancer, JAMA Oncology and Annals of Surgical Oncology. These projects have also attracted significant external grant funding amounting to over $400,000 and have generated multiple abstracts, national and international conference presentations, as well as research awards. Importantly, the establishment of this research program laid the foundation for newer faculty members to pursue similar research interests, allowing them to develop their own productive research programs. With respect to his translational research, Dr. Nanji's work in molecular biology has elucidated unique epigenetic signatures in patients with liver cancer. His work has led to a prospective clinical trial using these molecular profiles as biomarkers to help risk stratify and treat patients with liver cancer.
In his role as J. Hugh McGuire Chair in Surgery, Dr. Nanji is committed to providing shared support and mentorship to his colleagues and to continue developing his academic program. Specifically, he and his colleagues will continue to grow their health services research program centered on patients with advanced gastrointestinal malignancies. In addition, Dr. Nanji will continue developing his translational work in liver cancer with the hope of uncovering better molecular strategies to improve outcomes in this patient population. Lastly, Dr. Nanji will champion the expansion of the academic initiatives of the Global Surgery Program. This will include support for ongoing projects with the Global Oncology Program at Queen's as well as with international partners in surgical curriculum development. He also hopes to facilitate a study that would evaluate the access to surgical services for Canada's northern communities.